Cultural Mediation
Known for its cultural vitality, Vaudreuil-Dorion uses cultural mediation to create meeting spaces that will help strengthen ties between community members.
What is cultural mediation?
An essential practice used in the cultural development of a territory, cultural mediation consists in developing a variety of strategies and tools to improve access to artistic production and encourage citizen participation and cultural expression.
In Vaudreuil-Dorion, the "Je suis..." project is nothing less than a new way of seeing culture and living it in the community.
Capsules vidéo d'introduction à la médiation culturelle
Série de six capsules d'introduction à la médiation culturelle produite par la Ville de Vaudreuil-Dorion  dans le cadre de l'entente de développement culturel avec le ministère de la Culture et des Communications du Québec.
Lauréate de plusieurs prix nationaux et internationaux pour son projet de médiation culturelle Je Suis…, la Ville de Vaudreuil-Dorion est aujourd'hui reconnue comme l'une des Villes leader de l'Agenda 21 de la culture par le réseau mondial Cités et gouvernements locaux unis (CGLU) en plus de s'être mérité, en 2016, le prestigieux Prix international – CGLU - Ville de Mexico - Culture 21. 
Expert (recherche, textes et animation) : Michel Vallée. Production : Kinescope. Caméra : Éric Filiatreault. Son: René Portillo. Montage: Patrick Richard et Antony Vannapho. Réalisation: Natalie Poirier
La médiation culturelle 1 : C'est quoi?
La médiation culturelle 2 : La rencontre
La médiation culturelle 3 : L'acteur
La médiation culturelle 4 : L'agent de changement
La médiation culturelle 5 : Le processus (1 de 2)
La médiation culturelle 6 : L'agent de changement (2 de 2)
2017 Cultural Mediation Projects
Among the proposals submitted for 2017, the Culture Committee of the City of Vaudreuil-Dorion has chosen to support those of the following artists.
Activity
Artist or organization

Les mots sans frontières (words without borders)
Creation of 12 works of art reflecting participants' origins through a traditional garment of their country. The garment will be made of paper, on which excerpts from various documents selected from the archives centre will be printed.

Tina Struthers and Marthe Villeneuve, in collaboration with the Centre d'archives and Fabyen Halimi, teacher of French as a second language

S'enraciner (taking root)
Collective creation of a permanent urban art structure in collaboration with citizens from various cultural and social communities

Sonia Haberstich and Monica Brinkman

Nouvelle vie dans ma communauté (new life in my community)
Creation of a mural from recycled plastic caps. This project will be carried out with Arc-en-ciel members who are struggling with mental health issues.

John McRae in collaboration with the organization
Arc-en-ciel

Journée P (P Day)
An opportunity for citizens to meet the members of Parrainage civique de Vaudreuil-Soulanges and to experience the integration process themselves, through cultural mediation workshops

Parrainage civique de Vaudreuil-Soulanges, a volunteer support organization

Mémoire d'un quartier Harwood (memories of the Harwood quarter)
A collection of testimonies and documents describing life in the old days, with people who lived in Harwood. The information will then be printed on exhibition panels.

Centre d'archives de Vaudreuil-Soulanges in collaboration with Micheline Mérizzi-Brault (resident)
Cultural mediation workshops using poetry and literature to communicate with different audiences.
Nathalyrmène Rousseau and Roxanne Bilodeau
The Mozaïk parade, which takes place every June 23, is a collective creation by citizens, cultural organizations, community groups and businesses in collaboration with local artists. It brings together nearly 1,000 participants. In Vaudreuil-Dorion, the people's creativity is given free rein. Artists take the lead, helping citizens of all generations, nationalities, cultural origins and walks of life to create a parade entry that expresses who they are. The Mosaïk parade is a unique cultural mediation initiative that creates a space where artists and the public can work together in a tangible way.
Travaillons ensemble (let's work together)
A work located at the corner of Chemin Paul-Gérin-Lajoie and Avenue Saint-Charles
Artists Tina Struthers and Monica Brinkman created a work linking the Vaudreuil-Dorion of yesteryear to the urban city it is today. They wanted to use mosaic to turn a 1949 tractor into a symbol of the history of Vaudreuil-Dorion and its farmlands. The result? Some 500 small mosaic tiles adorn the tractor—a tribute to the participants in the cultural mediation initiatives and to memories of days gone by.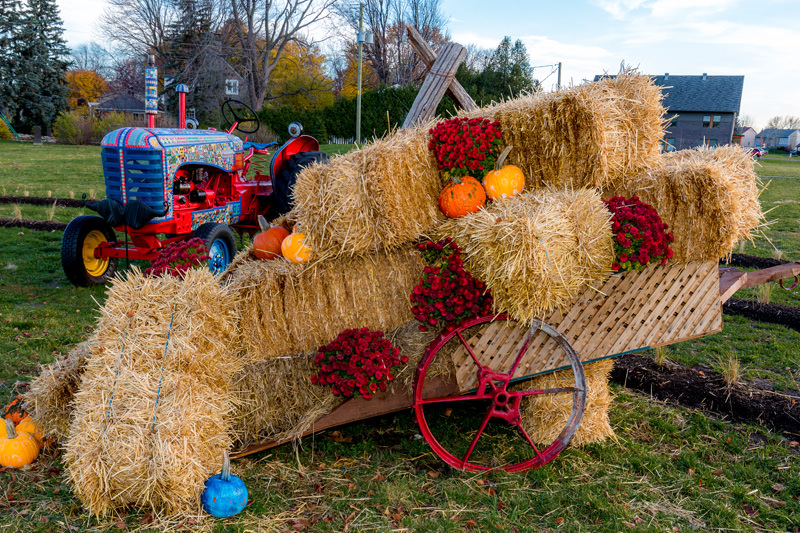 Nourrir ses rêves II (feed your dreams II)
A mural painted on the Rue Valois overpass, at the corner of Avenue Saint-Charles
The "Nourrir ses rêves II" mural was proposed to encourage people to cooperate, dialogue and take a fresh look at our community. Madeleine Turgeon, with her unquenchable desire to democratize art by integrating it into our living environment, has proposed a series of art workshops with some 20 young people from Carrefour jeunesse-emploi to offer them an enriching experience while beautifying a much-neglected area of ​​the city.
The mural, composed of faces with big eyes representing the perspectives and dreams of these young people, evokes resilience in the face of difficulty. Their expressive eyes and smiles remind us that we must not abandon our dreams and that the future is here.