Ecocentre and construction waste
The ecocentre allows citizens of the MRC of Vaudreuil-Soulanges to dispose of many residual materials that are refused in the regular collections in a simple and efficient manner.
If you need to get rid of an item that is refused in the bulk waste collection, it can probably be taken to the ecocentre or to a construction waste collector.
Business hours and address
Winter and Fall (January 1 to March 31 and December 1 to December 31)
Friday: 8 a.m. - 4 p.m..
Saturday and Sunday: 9 a.m. - 4 p.m.
* During the holiday season, the Ecocenter will be open from Tuesday, December 28 to Thursday, December 30, 2021, from 9 a.m. to 4 p.m. However, it will be closed on December 24, 25, 26, 31 and January 1 and 2.
Spring and Summer (April 1 to November 30)
Tuesday to Sunday: 8 a.m. - 5 p.m.
Ecocentre Vaudreuil-Soulanges
2800 Henry-Ford
Vaudreuil-Dorion, Québec  J7V 0V8
450-455-5434
www.mrcvs.ca/ecocentre
Accepted materials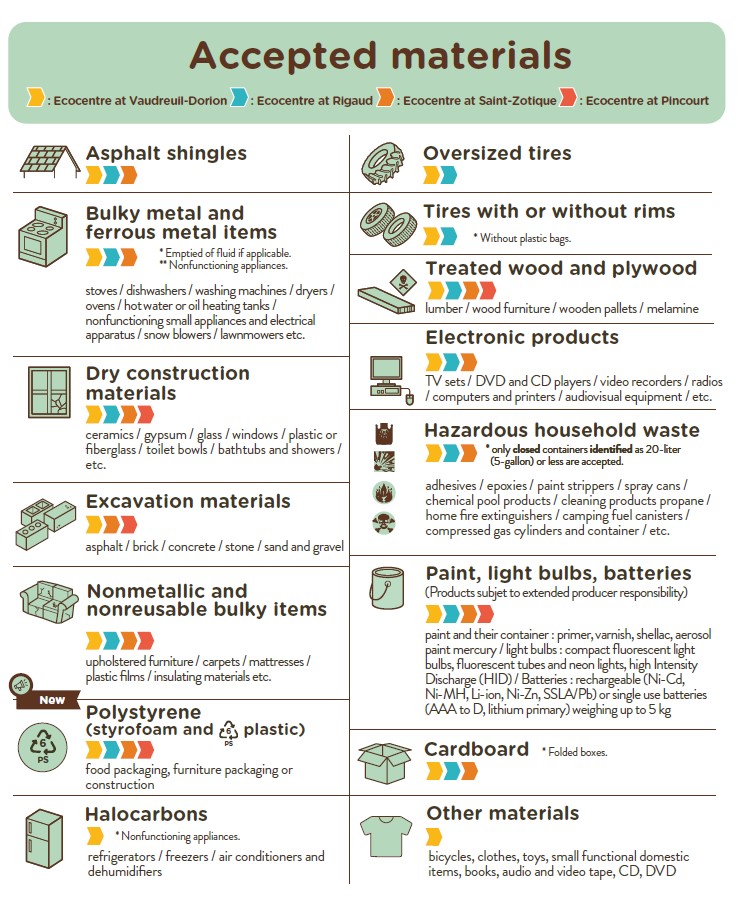 Refused materials
Materials from industrial, commercial, institutional or agricultural operations are not accepted. In addition, the following are not accepted at the Ecocentre:
Organic waste (branches, kitchen waste, leaves, grass clippings, tree trunks, sod, tree trimmings, etc.)
Earth (including sod)
Re-usable items (furniture, clothing, etc.)
Medication
Weapons and ammunition
Hydrofluoric acid and any item that may contain it
PCBs and any item that may contain them
Cyanide
Biomedical waste
Animal carcasses
Radioactive waste
Explosives including fireworks, flares, etc.
Asbestos
There are many recovery and recycling organizations in the region. See the recycling directory.
Rates
Residents of Vaudreuil-Soulanges may dispose of 12 m3 per year at no charge. Beyond that, a charge of $25/m3 applies. Proof of residency must be presented upon arrival at the Ecocentre.
Debris from construction, renovation and demolition (CRD) makes up 40% of all waste produced in Québec. According to government data, a major effort is needed in Vaudreuil-Dorion. The municipal by-law requires the recovery of CRD waste since January 1, 2013. Proof of sorting and recovery at an authorized site may be required by the City.
Building a new home? Renovating your old one?
When you rent a container, ask that it be sent to a sorting centre once the work is done.
Dispose of your CRD waste at the ecocentre.
Specialty Contractors
Company name
Materials

Construction Beauval
Salaberry-de-Valleyfield
514-875-4270
bauval.com

Aggregate and asphalt shingles
*Dump site

Conteneurs Rouville
Chambly
450-658-9990
conteneursrouville.com

All construction, renovation and demolition waste
*Rental of containers (10, 13, 20 or 40 cubic yards) and dumpsters

Conteneurs urbains inc.
Riviève-Beaudette
514-923-5781
conteneursurbains.com

Earth, sand, stones, building materials, concrete and shingles

 (small quantities only)
*Container rental – 5 cubic yards (1 ton)

Éco-Réno
Montréal
514-725-9990
ecoreno.com

Old and reusable renovation materials (doors, bathtubs, sinks, hardware, stained glass, woodwork, flooring wood, various accessories)
*Collection by small truck

Entreprise Pavco
Laval
514-322-6844
pavco.ca

Ferrous metals (iron, steel, stainless steel, cast iron), non-ferrous metals (aluminum, copper and copper alloys, tin, lead, lead alloys), wood, wood chips, treated wood, wood pallets, asphalt, asphalt shingles, brick, stone, concrete, drywall, hazardous waste (used oil)
Industrial, commercial and institutional only
*Collection service or dump site

Groupe Ebi
Montréal
514-645-5200
groupe-ebi.com

Paper, cardboard, ferrous and non-ferrous metals, plastic, glass, compostables, animal products, wood pallets, sawdust and wood chips
*Container rental (15, 20, 30 or 40 cubic yards) or dump site

Lafarge
Montréal
514-640-6130
lafarge-na.com

Concrete, bituminous concrete, foundation aggregate, asphalt, Class A soil
*Large quantities only (only heavy trucks are allowed at the dump site)

Les entreprises environnementales Pierrefonds inc.
Montréal
514-696-4509
eep-leep.com

All construction, renovation and demolition waste
Industrial, commercial and institutional only
*Container rental (2 to 40 cubic yards)

Les Fibres J.C. Montréal
Montréal
450-359-4545
1-800-667-0853
jcfibers.com

Paper, cardboard, plastic, ferrous and non-ferrous metals, wood, wood chips, wood pallets, concrete, asphalt and dry materials from demolitions
*Container rental (20, 30, 40, 60, 80 or 120 cubic yards)

MC Solutions réno inc.
Saint-Lazare
514-755-5164
mcsolutionsreno.ca

All materials are accepted, sorted and sent to the appropriate place
*Container rental (10, 14 or 20 cubic yards)

Mélimax
Châteauguay
514-875-6862
melimax.com

Wood, cardboard, paper, brick, earth, rocks, cement, asphalt, drywall, shingles, ferrous and non-ferrous metals, construction and demolition materials
Industrial, commercial and institutional only
*Container rental (10, 14, 20 or 40 cubic yards) or dump site

Multi Recyclage
Lachine
1-800-306-5151
multirecyclage.com

Wood, paper, cardboard, plastic, brick, cement, rocks, concrete, asphalt, ferrous and non-ferrous metals, drywall, shingles and other related materials
Industrial, commercial and institutional only
*Container rental (10, 20 or 40 cubic yards) and collection

Pavages Vaudreuil
Vaudreuil-Dorion
450-455-2153
pavagesvaudreuil.com

Dry waste (concrete, asphalt and rock)

Recy Béton inc.
Rivière-des-Prairies
514-881-8002
Recybeton.com

Asphalt, concrete, concrete blocks, stone
*Dump site

Recycle Gypse Québec
450-992-0628
recyclegypse.com

Drywall and plaster
Industrial, commercial and institutional only
*Dump site

Robert Daoust & Fils inc.
Vaudreuil-Dorion
450-458-4340
robertdaoustetfils.com

Dry materials (concrete, earth), all construction and demolition waste, recyclable waste
*Container rental (12, 20 or 40 cubic yards)
Frequently Asked Questions
Why does the City have to limit the materials accepted for bulk waste collection?
These changes have been made for environmental reasons and to comply with the standards and policies established by the Québec government. In March 2011, the provincial government adopted the Québec Residual Materials Management Policy, which aims to create a waste-free society by encouraging more environmentally friendly habits and best practices in consumption and waste management.
Is any money saved by diverting large items from landfill?
The City must rein in the costs of residual materials management; this includes limiting landfill, which is subject to a government surcharge. For each ton of large items sent to landfill, the City pays disposal costs and charges.
When you cut down on the amount of waste you send to landfill, you not only help reduce our community's environmental footprint, but you also reduce the costs we incur for waste disposal.
Why is construction debris not picked up?
The Government of Québec has set aggressive targets for reducing the amount of waste sent to landfill. The City's scores with regard to construction debris indicate that significant effort is needed. Under City by-laws adopted in January 2013, recycling of this waste is mandatory. Most construction waste can be recycled. This is why it is not collected with other bulky waste, which is disposed of in landfills. Citizens can use the Ecocentre for this waste.