Ecocentre
The Ecocentre gives citizens a convenient way to dispose of a multitude of residual materials that could be environmentally harmful. By encouraging recovery and valorization, it diverts a significant amount of waste from landfill and gives it a second life.
Business hours and address
Winter and Fall (January 1 to March 31 and December 1 to December 31)
Friday: 8 a.m. - 4 p.m..
Saturday and Sunday: 9 a.m. - 4 p.m.
* During the holiday season, the Ecocenter will be open from Tuesday, December 28 to Thursday, December 30, 2021, from 9:00 a.m. to 4:00 p.m. However, it will be closed on December 24, 25, 26, 31 and January 1 and 2.
Spring and Summer (April 1 to November 30)
Tuesday: 7 a.m. - 5 p.m.
Wednesday to Sunday: 8 a.m. - 5 p.m.
Ecocentre Vaudreuil-Soulanges
2800 Henry-Ford
Vaudreuil-Dorion, Québec  J7V 0V8
450-455-5434
www.mrcvs.ca/ecocentre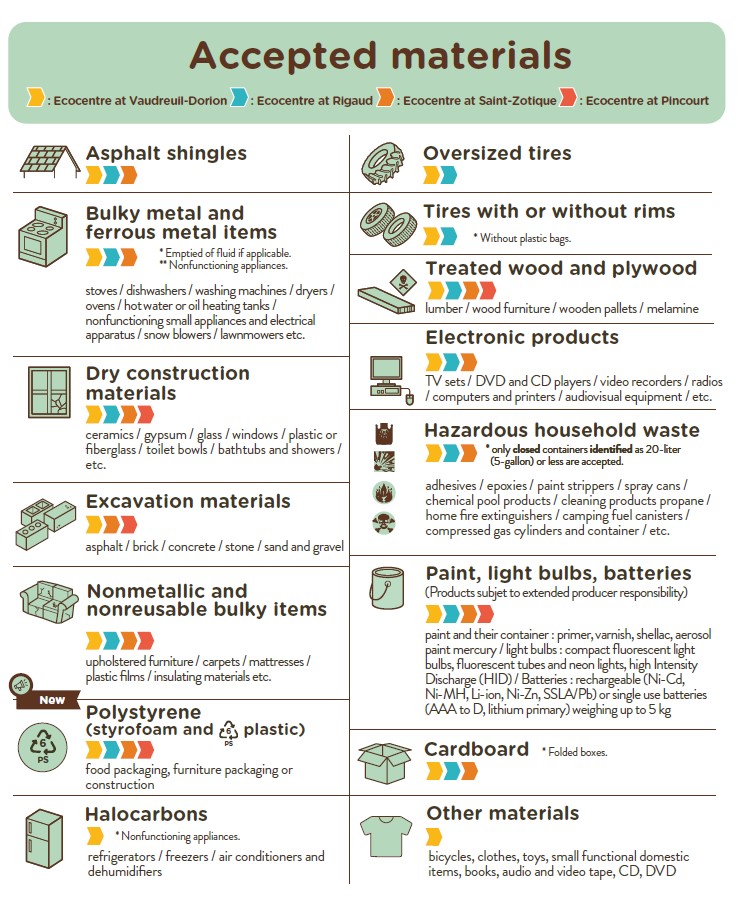 Materials from industrial, commercial, institutional or agricultural operations are not accepted. In addition, the following are not accepted at the Ecocentre:
Organic waste (branches, kitchen waste, leaves, grass clippings, tree trunks, sod, tree trimmings, etc.)
Earth (including sod)
Re-usable items (furniture, clothing, etc.)
Medication
Weapons and ammunition
Hydrofluoric acid and any item that may contain it
PCBs and any item that may contain them
Cyanide
Biomedical waste
Animal carcasses
Radioactive waste
Explosives including fireworks, flares, etc.
Asbestos
There are many recovery and recycling organizations in the region. See the recycling directory.
Residents of Vaudreuil-Soulanges may dispose of 12 m3 per year at no charge. Beyond that, a charge of $25/m3 applies. Proof of residency must be presented upon arrival at the Ecocentre.