Rue Sécuritaire
A new pilot project targeting the security of residential neighborhoods.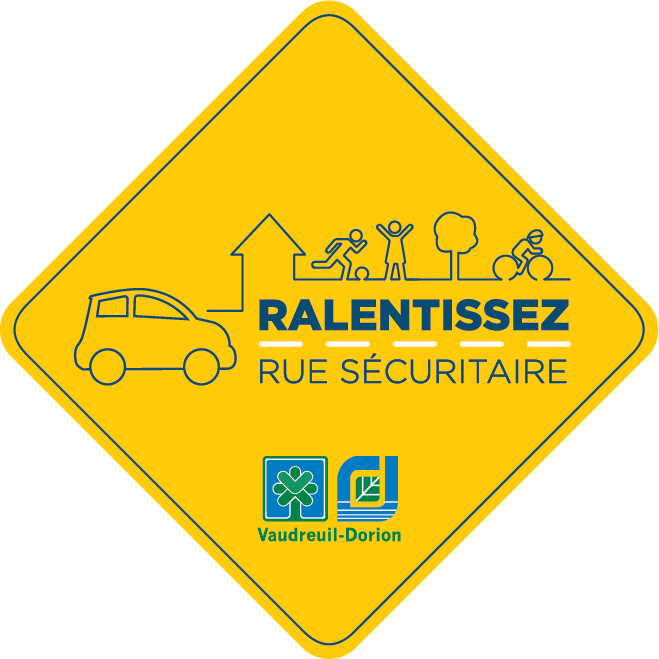 The Rue Sécuritaire initiative is based on a commitment by 66% of residents to drive slowly in the presence of pedestrians, cyclists, children playing in the street, etc. In addition, there are streetscaping plans to reduce the speed of all drivers and promote awareness of other users.
What you need to do to make your street a Rue Sécuritaire
For a street to benefit from this program, it must meet specific criteria, starting with a request by a resident of the street. The process has five steps.
1. Check if your street is on the list and map of eligible streets
The City has preselected certain streets or groups of streets that are eligible for the Rue Sécuritaire concept. To see if your street is included, just check the map or the list of streets.
To be eligible, streets must meet the following criteria:
Local street without transit service
Average traffic volume under 500 vehicles per day
2. Send a formal application to your municipal councillor
The resident must complete the application form for Rue Sécuritaire designation (In French) for their street and send it to their municipal councillor.
In this form, the applicant must explain the reasons for undertaking the process and also obtain the support of at least three other residents.
3. Enlist the support of at least 66% of residents of the street
Once your application is accepted, you must ask the residents of the street to fill in the Rue Sécuritaire commitment form (In French), specifically to drive under the limit of 40 km/h. The application will be considered valid only if there is a commitment by at least 66% of residents..
4. Streetscaping design
When the required forms are received, the City will inform residents of the acceptance of their application, and then go on to redesign traffic signage and planter installations in order to reduce motorists' speed and beautify the sector.
The street will be designated a Rue Sécuritaire for a period of two years, after which the designation process must recommence.
5. Fulfilling the commitment
Residents of the street must abide by their commitment and adapt their everyday driving habits when on Rue Sécuritaire. If necessary, the City can send reminders to the residents.
If your street is not on the list of eligible streets, but you're interested in this program because you're aware of some safety issues, contact your municipal councillor to learn about other options that may be possible in your area.
Thank-you to the City of Sainte-Julie for allowing the Rue Sécuritaire project to be based on their Rue Conviviable project.